Notting Hill Genesis
case study
The Client
Notting Hill Genesis is one of the largest housing associations in the UK, managing more than 60,000 homes across London and the South East, with over 2,000 dedicated staff committed to providing high quality homes and excellent service to their customers.
Their main aim is to create sustainable and vibrant communities, where people can thrive and lead fulfilling lives. By working closely with local authorities and communities, they strive to create inclusive and sustainable environments, where everyone feels at home.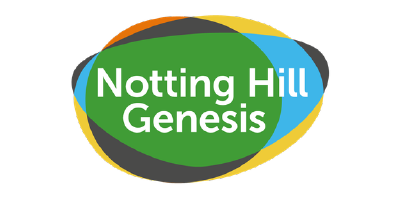 The Challenge
Live chat and social media are becoming increasingly popular as channels of choice for first contact. NHG wanted us to review and improve the customer journey and reduce agent effort in these channels, focusing on agent shortcuts and social media responses, to create a more natural, conversational experience that reflected their other contact channels, aligning touchpoints across the customer journey.
Our Task
Review agent shortcuts
Analyse customer/agent engagement on social media
Check accuracy of all content provided, including deflection links
Identify opportunities to enhance the customer experience
Build trust by creating natural conversational engagement.
"Your advice and recommendations have transformed our Live Chat conversations – Agents feel valued and empowered, and the feedback from customers has been overwhelmingly positive."
David Condron
Customer Service Centre Manager, Housing Directorate
The Solution
We conducted an in-depth analysis of NHG's agent shortcuts, and spent time with live chat agents to understand how and when they were used. Social media interactions were reviewed to include use of language, emojis, and the follow-ups completed.
Every URL link was tested, and the content assessed for relevance and helpfulness.
We re-wrote each shortcut, ensuring it matched the brand tone of voice used in other touchpoints, and redesigned the layout of each individual shortcut to ensure pertinent information was able to be easily identified by the agent and easily understood by the customer.
The social media interactions and shortcuts were also refreshed. We created a range of messages to reflect key use cases (including escalations), and encouraged NHG to follow up on successful interactions with simple completion acknowledgements , demonstrating and promoting the positive responsiveness to other social media users.
Finally, we created a system of governance for NHG to use, which encouraged collaboration between their agents, ensuring opportunities for new messages are shared throughout the digital teams , with an 'owner' overseeing the process and ensuring the language, style and tone remain consistent and on-brand.
This was followed by an in-depth analysis and recommendations document, which detailed our findings and included governance for response times, use of appropriate language , guidance around the use of emojis and recommendations for additional content to be integrated that would further enhance the customer journey and improve containment.
The Results
Improved CSAT
Engaged and involved agents
Improved agent satisfaction
Increased positive interactions.